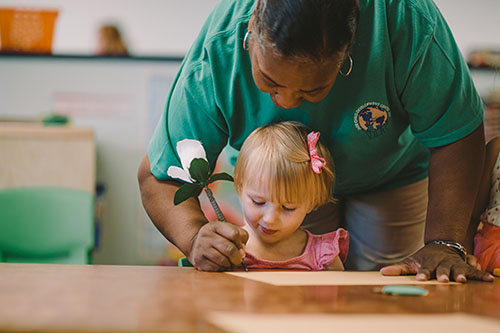 The Jade Child Development Center mission is to provide the families in our community affordable, high quality childcare every parent can depend on and trust. While standard practices in child care centers are put in place for a reason, we like to think we 'break the mold' a bit, when it comes to providing each child with an individualized, developmentally appropriate program, so that they can grow and develop at their own unique pace. After all, no two children learn the same way. We're here to help each and every child grow and blossom, and that is best accomplished through our caring, nurturing environment, focusing on each child's social and emotional development. What exactly does that mean for your little learner? In short, a play-based method of learning that teaches social skills, exploration, discovery, and more. Our highest priority rests in building communicative relationships and growth with our staff, and families, to work together as a strong partnership that helps your child to grow in every facet of life.
Quality Child Care
All children grow and learn differently. It's our passion and our promise to focus on those individual needs, and work with each child so they can develop at their own pace.
Environment
Our caring, nurturing environment helps to foster each child's social and emotional development. They'll feel right at home! Family Support
We believe in the importance of developing a strong relationship between families and our caregivers – we're all part of the same team, after all! That's why our program focuses on enhancing support networks, to form a stronger bond that can work together for your child's benefit. Playtime
Our play- based curriculum emphasizes the importance of discovery, creativity, and exploration, enabling children to grow both cognitively and physically. Every child is more eager to learn when they have fun doing it!
I have two favorite things about Jade- one, that my infant son absolutely loves it there. He gets to try new things and is encouraged to be inquisitive through a supportive, loving, and nurturing environment. My other favorite thing about Jade is that each morning I leave my son I have absolutely no doubt that he is in excellent care; that puts both my mind and heart at ease each day. The staff is wonderful, and I feel so lucky that my son has such caring teachers to spend his day with. They have been wonderfully accommodating and supportive. I cannot recommend Jade enough to parents looking for high quality care.
Jessika Whiteside
I have found the staff to be caring and supportive. Everyone is interested in the entire well-being of every child.
Kimberly May
Our kids have really enjoyed JCDC. They have both benefited greatly in terms of their educational development and social skills! Thank you JCDC! WE LOVE JADE:)
The Passeggiato Family
We want to say thank you for making our son's transition to Jade so easy! He LOVES it here at Jade. My husband and I cannot thank you and your wonderful, caring teachers enough. We consider ourselves very lucky to have found you.
Thanks again!!
The Samelko Family
Thank you very much for making our child's Pre-k experience a good one! This is truly an excellent school with excellent staff. We appreciate everything this school has to offer. Thank you again!
Carefelle Family